Council sees long-term rental as solution to regional worker shortages
A council in Victoria's alpine region is urging ratepayers not to list their properties on short-stay sites and instead rent them out long-term to help plug a major shortage of key workers.
A shortage of affordable long-term rental properties is contributing to an acute under-supply of workers across a range of industries, including hospitality, healthcare and education.
Restaurants and cafes in towns popular with holidaymakers across the state have been forced to cut their trading hours because they cannot find enough employees to remain open all week, despite an increase in visitors.
More owners listing properties on holiday rental sites, the rising trend of people leaving Melbourne for regional Victoria and the increasing tendency for young people to remain in country towns have all contributed to the housing shortfall.
In a bid to address the problem as the busy summer period approaches, the Alpine Shire wrote to all landowners this month asking them to consider long-term tenants and make the switch from short-term sites such as Airbnb or Stayz.
"We strongly encourage anyone considering their property options to make contact with council", Alpine Shire mayor Sarah Nicholas said. "Your property could become a much-needed home for a vital key worker."
Cr Nicholas said a "handful" of property owners had so far contacted the council about letting their homes as part of the program.
Figures supplied by the shire showed the cost of renting rose 14 per cent in the year to April in Bright, while median house prices increased by 24 per cent between 2019 and 2020.
From 2014 to 2020 median house prices in the town soared from $330,000 to $715,000.
Bright's population grew by 1.3 per cent in the year to 2020. But by April the number of long-term let properties had fallen by 6 per cent on the year before, with some changing over to the short-term market.
Holiday accommodation is scarce in the region over the summer holiday period, but some apartments are attracting prices of $1000 a night during the peak.
However, Cr Nicholas said there were benefits to long-term rentals, including fewer costs for cleaning, marketing and furnishing.
"The income difference between short-term and long-term accommodation may be less than people think," she said.
In a Facebook video posted by the council last month, Bright P12 College assistant principal Scott Burton said he was evicted from his rental property, and it took almost 80 days to find a new home.
Bright Brewery owner Scott Brandon said he had been able to retain workers because over the years he had worked to increase his proportion of permanent staff.
But he said it was clear other businesses were struggling to attract enough staff, with many forced to reduce their hours, particularly midweek, and some of those customers flowed over to the brewery due to the lack of options in the town.
"They might be open five days a week, but tourism is a seven-day-a-week business," he said.
A state government spokeswoman said $5 million was being invested in new pilot programs to help tackle the housing shortages in regional Victoria.
"Locations include the high country, where the popularity of the region for both tree-changers and domestic tourism is leading to accommodation shortages," she said.
"New planning provisions for rural worker accommodation are making it easier for farmers to provide suitable accommodation to secure the workforce they need."
Rural Councils Victoria deputy chair Jenny O'Connor said the housing shortage was a complicated problem because councils wanted to encourage tourism to stimulate their economies, but it was contributing to the shortage of workers required to serve holidaymakers.
"It's a wicked problem. There's no easy solution," she said. "As communities we want permanent residents as well as tourists."
Article Source: www.brisbanetimes.com.au
Lovingly restored heritage boutique accommodation set to open in Sunshine Coast's Maleny
Maleny Lodge, a new heritage boutique accommodation in the heart of the vibrant Sunshine Coast hinterland town of Maleny, will open on 30 May, after being lovingly restored by owners Andrew and Lucy Pink.
Maleny Lodge dates back to 1905, when it was originally called Rosedale, but was later renamed Maleny Lodge, and has provided lodgings ever since.
Andrew and Lucy Pink bought the property in 2021, after their highly successful re-birthing of a 1980s motel in Maroochydore and transforming it into the chic Loea Boutique Hotel.
With Lucy's impeccable eye for distinctive furnishings and objet d'arts, and a complete interior update of the Lodge, the couple have brought a new lease of life to the house whilst retaining its charm and original features. Full of luxury finishes, modern comforts and a beautifully curated collection of vintage furniture and trinkets, Maleny Lodge offers some of the newest accommodation in the Hinterland for many years.
Maleny Lodge blurs the lines between boutique hotel and holiday home, offering an exclusively adults-only space where guests can disconnect from everyday life, relax and rejuvenate in luxurious surroundings.
There are four large ensuite guest rooms that can be booked separately, all named after the original family members who lived there. The four rooms are available from between $280 and $360 per night, subject to availability.
The original part of the house, Rosedale, is available for renting as a complete property, comprising three bedrooms: one king room with an ensuite plus two queen rooms sharing the main bathroom with a stunning claw foot bath. Rosedale comes with a fully equipped country kitchen, lounge/dining room with log fire, and cosy outdoor dining on the veranda.
Ideal for friends, small wedding parties, adult families and corporate think-tanks, Rosedale is available from $700 per night, and includes shared access to the picturesque grounds, heated magnesium pool and woodland area. The whole property is also available for renting, with a capacity of a maximum of 14 guests.
Co-owner Andrew Pink said that it had been a pleasure for Lucy and him to revitalise the impressive property.
"It has been a very careful balance between preserving the distinctive heritage character of the property and renovating it for the ultimate in contemporary luxury," said Andrew Pink.
"It's all in the detail. Our seven individually designed bedrooms are not only beautiful, but we have designed them with the comfort of our guests in mind. You can immerse yourself in cloud like bedding adorned with flax linen sheets for a dreamy night's sleep. Our luxurious bathrooms feature handcrafted artisan tiles with freestanding bath and/or double shower."
Ideal for special occasions and events
Maleny Lodge is available for exclusive hire making it a perfect venue for special events including small weddings, retreats, gatherings and location shoots.
In addition to accommodating up to 14 guests, Maleny Lodge can host a further 36 guests for day within the Lodge's beautiful gardens. For all events Maleny Lodge is offered as a 'blank canvas', with the group arranging extras such as catering, marquee, furniture, and glassware/cutlery/crockery hire.
Exclusive hire prices start from $1800 per night. Plus $100 per additional guest attending your event (up to 36 additional guests).
Article source: www.thehotelconversation.com.au
Report: Australia's vacancy rate holds steady at record low
Australia's vacancy rate held steady for the month of April, with the national figure still sitting at a lowly 1.0 per cent.
According to Domain's latest report, the combined vacancy rate remains at its lowest level since Domain started recording the metric in 2017.
The record-low figure means that the country's rental market remains one that favours landlords, as demand continues to outstrip supply.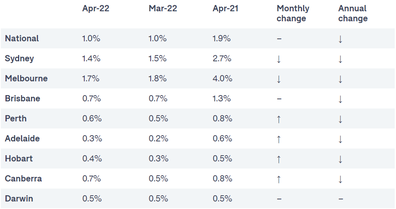 Among the capital cities, April did, however, show mixed results, with some metropolises witnessing a slight increase in vacancy rates while others continued to dip lower.
Most notably, Australia's first and second most populous cities – Melbourne and Sydney – both saw decreases last month.
Data shows that the Emerald City dropped by 0.1 per cent in April to just 1.4 per cent, which is the lowest vacancy rate Sydney has witnessed since Domain's records began.
Similarly, Melbourne dropped by 0.1 per cent, too, with the rental vacancy rate in Victoria's capital now sitting at just 1.7 per cent.
Melbourne's worsening rental crisis is punctuated when comparing last month's vacancy rate to April 2021, which was 4.0 per cent.
Conversely, Canberra's red-hot rental market looks to have cooled ever so slightly, with the number of available rentals shooting up by 0.2 per cent last month to now sit at 0.7 per cent.
Hobart, Adelaide and Perth all saw 0.1 per cent increases in vacancy rates, while Brisbane and Darwin remained steady at 0.7 per cent and 0.5 per cent, respectively.
The increasingly short supply of rental properties across the country is also driving up weekly asking prices to record highs.
"Many cities are sitting at record high asking rents with all capital cities seeing an increase in median rents for the first quarter of 2022 (except Sydney houses which remain steady at a record high)," Dr Nicola Powell, Domain's chief of research and economics, said.
Dr Powell added that things are likely to worsen for renters in the post-COVID era.
"The current tightening conditions swing favour to landlords and bolster the likelihood of any future potential rental price increases post-COVID as rising investor activity and elevated rental demand will further worsen conditions for tenants," Dr Powell said.
Article source: www.nine.com.au
All You Need To Know On How To Maintain Your Rental Property
Maintaining your rental property is important if you want to keep your tenants happy and ensure that your investment is protected. In this blog post, we will discuss all the things you need to do in order to properly maintain your property. We will cover everything from keeping the property clean to fixing broken appliances. So, whether you are a new landlord or have been renting out properties for years, be sure to read this post!
To DIY or Hire A Professional?
So, what you can do to maintain your rental property? There are many high-rise window cleaning companies in Sydney that will be able to help you with the upkeep of your rental property. However, some people feel more comfortable doing it themselves. If you fall into this category, here are a few things you need to know on how to maintain your rental property:
– First and foremost, always

make sure that your windows are clean

. This may seem like an obvious task but it is one that is often overlooked. Not only will dirty windows make your rental property look unkempt, but it can also lead to permanent damage if left unchecked.

– In addition to regularly cleaning your windows, you should also

be sure to inspect them for any signs of wear and tear.

If you notice any cracks or chips, be sure to repair them as soon as possible to avoid further damage.

– If your rental property has gutters, it is important to

keep them clean and free of debris.

Clogged gutters can lead to water damage, so be sure to clean them out on a regular basis.

– Finally, don't forget about the

outside of your rental property

. Regularly trimming the lawn and keeping the landscaping tidy will go a long way in making your rental property look its best.
By following these tips, you can ensure that your rental property is well-maintained and that your tenants are happy. In turn, this will help you retain good tenants and avoid having to deal with high turnover rates.
Regular Maintenance
As a landlord, you are responsible for ensuring that your rental property is well-maintained. This includes regular cleaning and repairs, as well as preventive maintenance. By keeping up with regular maintenance, you can avoid more costly repairs down the road. 
In order to keep your rental property in top shape, it is important to develop a regular maintenance schedule. This schedule should include tasks such as checking the smoke detectors and changing the filters on the furnace. Additionally, you should inspect the property regularly for any signs of damage or wear and tear. 
By staying on top of regular maintenance, you can ensure that your rental property remains in good condition for years to come. Additionally, tenants will appreciate living in a clean and well-maintained rental property. If you are not sure where to start, consider hiring a professional property management company to help you with maintaining your rental property.
Event of the emergency
While regular maintenance is important, there are also some things that you should do in the event of an emergency. For example, if there is a broken window or a clogged toilet, you will need to take care of the problem as quickly as possible. In these cases, it is often best to hire a professional to handle the repair. 
By being prepared for emergencies, you can avoid costly damages to your rental property. Additionally, tenants will appreciate knowing that you are available to take care of any problems that may arise. 
As a landlord, it is important to be prepared for both regular maintenance and emergency repairs. By staying on top of these tasks, you can ensure that your rental property remains in good condition for years to come. Additionally, tenants will appreciate living in a clean and well-maintained rental property. If you are not sure where to start, consider hiring a professional property management company to help you with maintaining your rental property. 
Regular Inspections
As a property owner, you should carry out regular inspections to make sure that your tenants are taking good care of your investment. By conducting regular inspections, you can nip any potential problems in the bud and avoid costly repairs down the line. 
Ideally, you should inspect your rental property every three months or so. Of course, this may not always be practical – especially if you live far away from your rental property. In such cases, you may need to hire a professional property management company to carry out inspections on your behalf. 
During an inspection, there are several things you should look out for:
–

Are there any signs of damage?

This could include water damage, holes in walls or ceilings, or broken windows.

– Is the property clean and tidy? 

–

Are there any health and safety hazards?

This could include things like electrical hazards, trip hazards, or gas leaks.

–

Are the tenants following the terms of their tenancy agreement?

This includes things like keeping the property clean and tidy, paying rent on time, and not causing any damage to the property. 
If you do find any problems during an inspection, you should address them with your tenants as soon as possible. By doing so, you can avoid potential disputes down the line.
Rental Property Maintenance Expenses
As a landlord, you are responsible for maintaining your rental property and ensuring that it is safe for your tenants. This includes regularly checking the condition of the property, repairing any damage, and keeping up with general maintenance tasks.
While it is important to keep your rental property in good condition, it is also important to be aware of the costs associated with maintaining a rental property. Here are some common expenses that landlords need to budget for:
–

Repairs:

Even if you take good care of your rental property, repairs will be needed from time to time. Landlords should budget for both emergency repairs (such as a broken water heater) and routine maintenance tasks (such as painting the walls or fixing a leaky faucet).

–

Updates

: In order to keep your rental property competitive, you may need to make occasional updates and improvements. This could include anything from repainting the walls to installing new appliances.

-Cleaning

: Depending on the type of rental property you have, you may need to hire a professional cleaning service to clean the units between tenants. This is especially common for properties with multiple units, such as apartments or condos.
As a landlord, it is important to be aware of the costs associated with maintaining your rental property. By budgeting for repairs, updates, and cleaning, you can ensure that your rental property remains in good condition while also staying within your budget.
Doing Rental Maintenance Helps to Have Happy Tenants.
As a rental property owner, you know that happy tenants are key to having a successful business. Not only will they take care of your property, but they are also more likely to renew their lease year after year. That's why it's important to do everything you can to keep them happy – and that includes maintaining your rental property.
Overall, maintaining your rental property does not have to be a difficult task. By following the tips mentioned above, you can ensure that your property is well-taken care of and remains in good condition for years to come. With a little bit of effort, you can create a comfortable and enjoyable living space for both you and your tenants. So what are you waiting for?