'Flicked a switch': Buyers bid big at South East Queensland auctions
A four-bedroom home in Mermaid Waters garnered so much interest that buyers from Denmark, Saudi Arabia and the United States inspected the property on FaceTime.
But it was a Queensland buyer who snapped up the waterfront home at 20 Tequila Court for $1.71 million.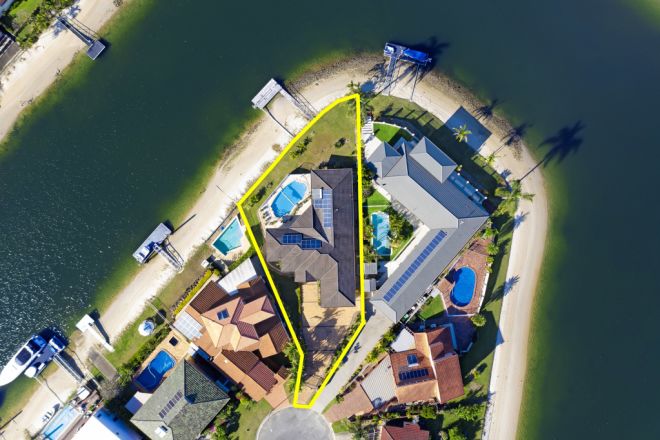 20 Tequila Court, Mermaid Waters QLD 4218
It was the first time the home, on the Gold Coast close to Broadbeach, had been offered for sale since being built 36 years ago.
Ray White Mermaid Beach co-principal Conner Malan said the buyer, a woman from Toowoomba, was one of 14 registered bidders on the day.
"She used an advocate, who was very flamboyant," Mr Malan said. "He was bidding in eights trying to convince the other bidders he was bidding for a Chinese buyer."
The winning bidder would now be calling the property her forever home, and was planning on some renovations, he said.
The property was one of almost 50 auctions held at the weekend across South East Queensland.
Brisbane's preliminary auction clearance rate sat at 52 per cent, after 46 auctions were scheduled and 25 results reported. Five properties were withdrawn from auction on Saturday.
In Brisbane's western suburbs, 23 buyers registered to bid on a very popular property.
The property, at 7 Salisbury Street, Indooroopilly, had a four-bedroom removable home on a double block of land, which many buyers were interested in.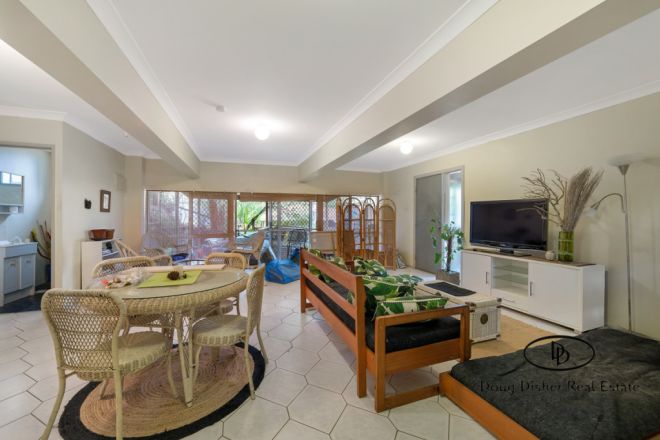 7 Salisbury Street, Indooroopilly QLD 4068
The home was snapped up by a developer/investor for $1,191,000 after an action-packed auction.
Doug Disher Real Estate director Doug Disher said bidding opened at $1 million, setting the scene for other buyers.
"There were some people there because they wanted to be close to schools," Mr Disher said.
So many people turned up for the auction that some had to be asked to move onto the street or a safe distance away to allow for COVID-19 social distancing.
The vendor, who lives overseas, watched the action unfold through a live stream, Mr Disher said.
"They were selling because the home was surplus to their needs," he said. "[They] were delighted with the result."
In Bulimba, in Brisbane's north-east, a four-bedroom Queenslander on a low-maintenance block at 7 Birkalla Street sold under the hammer for $1,452,500.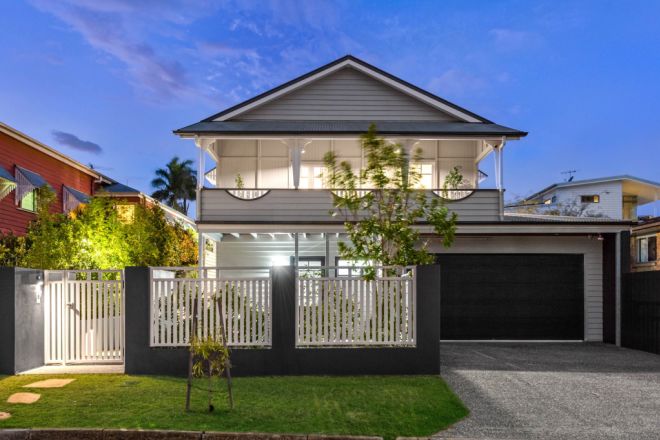 7 Birkalla Street, Bulimba QLD 4171
Ray White Bulimba's Jonathan Peck said the vendors, who had owned the property for 10 years, undertook a full renovation four years ago.
"They're delighted to be able to move onto their next chapter," Mr Peck said.
Eight buyers registered to bid on the property that had been inspected by more than 60 people in the past four weeks, Mr Peck said.
"The Brisbane property market continues to be red hot and Bulimba has now been on an upward trajectory for some time – it's great to see so many buyers out and about," he said.
Another fully renovated Queenslander at 19 Gordon Street, Hendra, sold under the hammer on Saturday, for $1,058,000.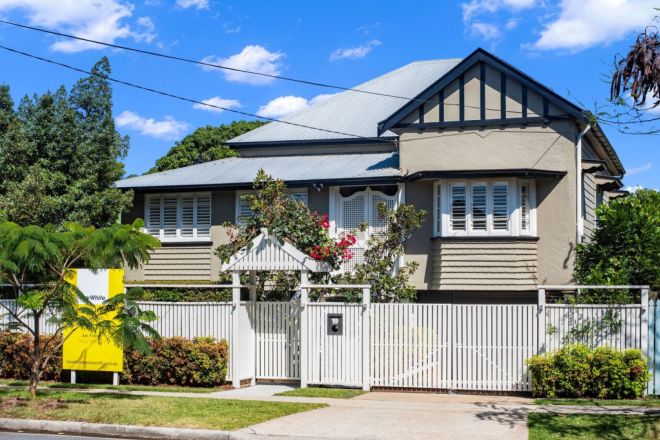 19 Gordon Street, Hendra QLD 4011
The four-bedroom home, also in Brisbane's north-east, attracted four registered bidders, who fought it out for the keys.
Ray White Metro North's Jon Finney said in the end it came down to two bidders, both young professionals, wanting to buy the home, which included large, decked outdoor entertaining areas.
"The winning bidder had missed out on three previous properties so they were determined to buy it with a capital D," Mr Finney said.
The vendors, meanwhile, offloaded the home to make a full-time move to the Sunshine Coast, he said. Such sales showed how strong Brisbane's auction market had become in the latter part of 2020.
"The confidence is here as strongly as it was lacking last year," Mr Finney said. "There's been a massive turnaround – it's like a massive light switch has been flicked on."
This article is republished from domain.com under a Creative Commons license. Read the original article.
Brisbane's Office Market Greenlit for Business
Brisbane's office market continues to shake off the pandemic doldrums with two new commercial towers approved in the CBD and fringe suburbs.
Property owner PGIM and development partner Indema's plan for a bold adaptive reuse of a 1970s commercial building at 444 Queen Street has won approval.
The bronze 22-storey tower opposite Customs House will be stripped back to its core structure and completely remodelled with a new podium, curtain wall facade and an additional two-storey sculptural canopy.
Indema director Michael Bruderlin said they would be targeting a net zero certification for the building upon completion in the first quarter of 2024.
Article source: www.theurbandeveloper.com
Developer Pitches for $130m Shop-Top Housing on Bayside
Brisbane's bayside could be going up in the world with plans for $130-million highrise shop-top housing in the heart of the seaside suburb of Wynnum.
Brisbane-based developer Hambros has lodged plans for a 21-storey apartment tower on the vacant lot neighbouring the Wynnum Central Shopping Centre, after winning approval for an small extension to the retail centre late last year.
The development comprises a 6-storey retail and commercial podium, with a 275-apartment tower above, backing on to Wynnum Central Park.
Hambros has reportedly spent about $14 million on revamping the Wynnum Central Shopping Centre on Bay Terrace, as part of a $74-million plan to rejuvenate Wynnum, including cinemas.
According to planning documents lodged with the Brisbane City Council, the tower will be made up of 54 one-bedroom apartments, 148 two-bedroom apartments, and 67 three-bedroom apartments, with six penthouses, which will have private rooftop space and their own pools.
The building height is well in excess of the allowable five to eight storeys in the Wynnum Manly Neighbourhood Plan, but town planners Gateway Survey and Planning argued the plan was "outdated" and should be overhauled.
The six-storey podium would contain two levels of parking, a retail tenancy at ground level, a floor of retail, with two storeys of commercial space for office, healthcare and events space on levels 5 and 6.
In a statement to the council Hambros director Justin Ham said the Wynnum CBD had been left behind "with no development occurring in the last 20 years".
"Our project is designed to put Wynnum CBD on the 'open for business' map," Ham said.
"This landmark development, with a construction cost estimated at $130 million will have a huge financial and community positive impact on the Wynnum CBD and surrounding areas.
"It's a once-in-a-lifestime opportunity to create a beautiful space overlooking the best bay in the world."
Ham said the development would bring much-needed foot traffic to the heart of the Wynnum CBD and help bolster businesses and landowners he said were struggling to remain profitable.
Taiwanese developer Shayher Group won approval for a masterplanned retail precinct at Wynnum Plaza with plans for 184 apartments across eight residential buildings as well as boutique cinemas and increased retail space, reportedly worth more than $100 million.
Work on the Wynnum Plaza redevelopment was due to commence later this year with a completion date hedged for 2024.
Article source: www.theurbandeveloper.com
More room in the Brisbane property price bubble but get ready for a reckoning, says bank
Brisbane's house prices would continue to outpace the nation this year but a significant slump was near, according to the ANZ.
The bank's economics team has revised its outlook for house prices and now tips a fall of about 3 per cent nationally this year followed by an 8 per cent fall next year. It had previously tipped a rise of 8 per cent this year and a fall of 6 per cent next year.
In Brisbane, the monthly growth rate has slipped down to about 2.5 per cent and ANZ expects a yearly rate this year of about 6 per cent with a fall of about 9 per cent next year.
The higher end of the market in Brisbane was also continuing to outpace the middle and lower price bracket in growth rates.
The downturn was being caused by higher interest rates and affordability issues and ANZ said the "wealth effect" would come into play which would spread the housing downturn to other areas of the economy.
"Falling house prices will weigh on consumer spending through the wealth effect, but high savings will provide a solid buffer," ANZ said.
It expects the RBA cash rate to get to 2.35 per cent by mid-2023 while the market is tipping a 3.25 per cent. A cash rate of 2.35 per cent meant a variable rate mortgage of 4.75 per cent and a 3.25 per cent rate would increase variable loans to 5.65 per cent.
It said some people may struggle but forced selling because of higher interest rates was a low risk.
Meanwhile, CoreLogic said the Coalition's plan to allow first home buyers to access their superannuation accounts to help pay for a house had some merit but there were downsides, including the possibility that it would only stimulate demand for housing and increase the cost "eroding some of the benefit of dipping into their super".
CoreLogic worked out that under the scheme the median amount that could be accessed would be about $10,000, the equivalent of state-based first home buyer grants.
"CoreLogic data shows the current median dwelling value in Australia is $748,635, meaning the scheme could help increase the size of a standard deposit by around 1 per cent," the company said.